Home / CADENZA Treasury / Community Projects

---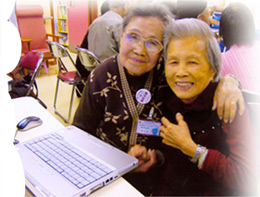 Objectives
To act as a platform for demonstrating innovative and sustainable service models to cope with the changing needs of the seniors, as well as to educate the general public on the concept of creative aging.
Features
Taking the needs of the user as a starting point to achieve seamless interfaces and collaborations among various sectors and mobilize untapped community resources.
Through the engagement process in the community project, collaborators from different sectors are provided with the opportunity to explore and practise collaborative approaches to the development of the pioneer model.
Participants are also positioned to engage a wide range of perspectives and stakeholders – resulting in the development of new roles and relationships, identification of cross-sector opportunities and strengthening of the elderly-friendly environment.
Each project initiative would build in evidence-based research to measure its outcome and validate the effectiveness of the delivery model.
Outcomes
A total of ten innovative community projects were launched to cope with the changing needs of elders. Project themes included chronic condition management, rehabilitation, transitional care, dementia, mental wellness, retirement, employment, intergeneration harmony, abuse prevention, and medical and social service integration. CADENZA community projects benefitted over 166,000 older adults, caregivers, practitioners and members of the public. Some of the pilot models are being adopted in the field.
---
On-going Project


Located in Tai Po District, the Jockey Club CADENZA Hub is one of the innovative community projects of CADENZA. It is a one-stop integrated health and social care centre managed by The Chinese University of Hong Kong.


In collaboration with the Chinese University of Hong Kong
Projects Completed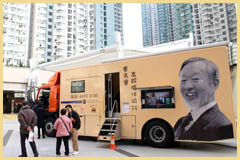 The programme comprised five components – consultation, public talks, centre-based workshops, follow-up service for patients and carers, and public education. The 16-tonne promotional truck, accommodating nurses and social workers with audio/visual health screening equipment, stationed for two months in each district in three years.


in collaboration with the St James Settlement and the Charles K Kao Foundation for Alzheimer's Disease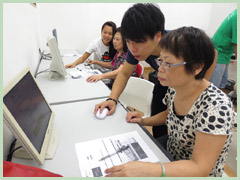 With aims to raise public awareness on inter-generational communication, create a platform for multi-generation interaction, and promote greater understanding and respect between generations for building a more cohesive community, the project comprises four parts: Community Education, Inter-generational Learning, Inter-generational Volunteer Development and Promoting Cultural Heritage Continuity.


in collaboration with the Aberdeen Kai-fong Welfare Association Social Service Centre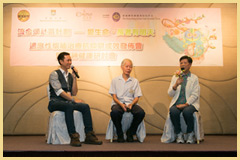 The project aims to reduce the depressive symptoms of the elderly through the Instrumental Reminiscence Intervention and to help them to develop a social network and lead a positive life.


in collaboration with Sik Sik Yuen and the University of Hong Kong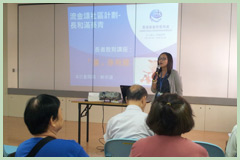 The project aims at providing convenient help-seeking and reporting channels of elder mistreatment/suspected abuse incidents, as well as prompt and supportive service against reported/suspected elder abuse incidents to the elderly victims and the related parties, whereas the "Elder-centred Empowerment and Mediation Intervention Programme" enabled restoration of relationships with mutual respect in addition to stopping the abusive behaviors among the parties concerned. Moreover, an evidence-based research study attempted to seek for an intervention model suitable for Chinese elder abuse victims and their caregivers, so as to cultivate mutual respect and concerns in our society.


in collaboration with the Hong Kong Christian Service and the University of Hong Kong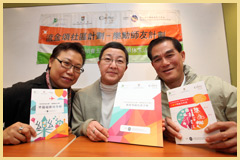 By introducing a mentorship intervention model, individuals who will retire soon or have just retired were assisted to develop active interests, participating in interactive and meaningful activities to derive satisfaction and motivation for a healthy and positive retired life.


in collaboration with the Hong Kong Christian Service and the University of Hong Kong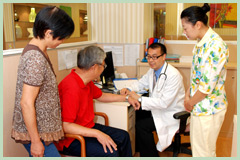 The project arranged intensive and continuous rehabilitation programme for the stroke elders in order to maximize the effect of 'Golden Rehabilitation Period". It also provided more care options for users with access to faster and higher quality rehabilitation services. Patients and family members were involved in setting the care plan; recovery progress were reviewed periodically with scientific data as well as visual evidences. Besides putting medical, nursing, allied health and social work professions together, the project also integrated alternate treatment methods like acupuncture, rehabilitation software into the programme.


in collaboration with the Hong Kong Sheng Kung Hui Welfare Council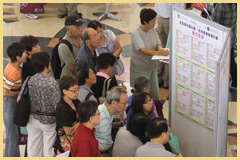 This project aimed to promote and create an "Elder-Friendly Employment Practice"(EFEP) in Hong Kong in order to establish supportive elderly employment in Hong Kong. It attempted to create a social atmosphere that would change the attitude towards elderly employment in the community.


in collaboration with the Hong Kong Society for the Aged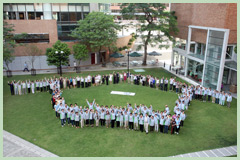 In response to the needs of the post-discharged elderly, this project initiated a 28-day care model for supporting the elderly upon being discharged and catering for their needs. The Omaha System, which has been used widely in the United States since 1975, was the framework for this project in case assessment and intervention.


in collaboration with the Salvation Army, Queen Elizabeth Hospital, The Hong Kong Polytechnic University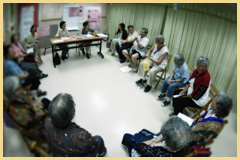 The project aimed at training elders to be lay leaders to promote self-management behaviours among the elderly population. The working team undertook research and conducted the Chronic Disease Self-Management Programme (CDSMP), an evidence-based model developed by Dr. Kate Lorig at Stanford University, which has already been adopted world-wide.


in collaboration with the Salvation Army and Shatin Hospital
---